Our next meeting will be at the JC Raulston Arboretum on January 20, 2024 at 10 am. Zachary Hill, Plant Records Specialist/Taxonomist, JLBG will present Unusual Native Plants of the U. S. Southeast, followed by a 15-minute talk by Tracy Thomasson: Critters in the Garden: the Good and the Bad. Social time begins at 9:30.
Piedmont Chapter Member Open Garden
Chapter members enjoyed a wonderful visit to Jay and Kim Yourch's garden following the September 16 meeting. Lucky visitors toured almost three acres of tropicals, an extensive woody plant collection and lovely perennials, followed by refreshments, including homemade persimmon pudding. Thanks to our amazing hosts for a memorable visit!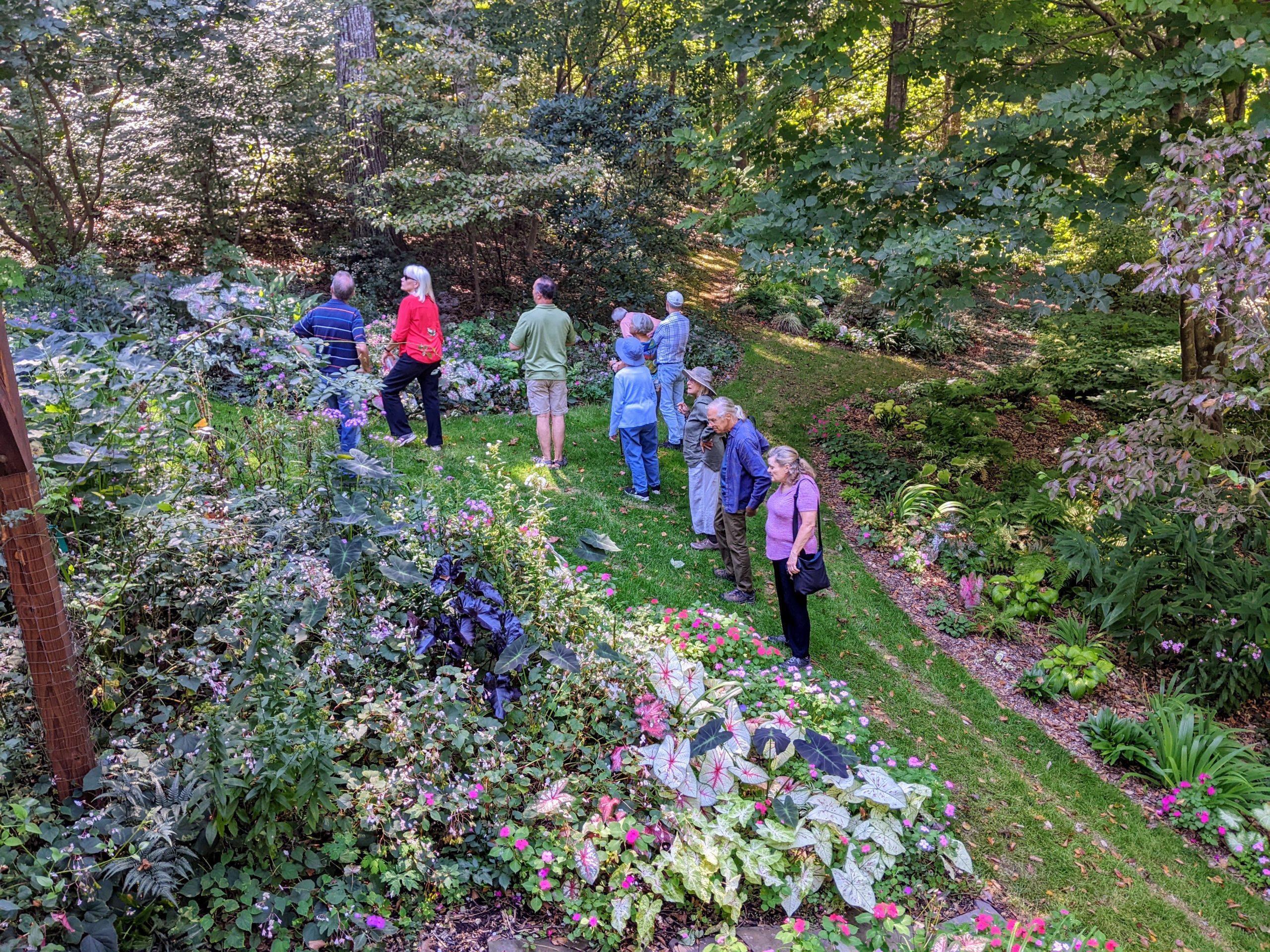 Piedmont Chapter Picnic, 2023
About thirty chapter members enjoyed delicious food in beautiful surroundings at Kyle and Mary Sonnenberg's Sunny Mount Gardens. Thanks to the Sonnenbergs for hosting a memorable year end event!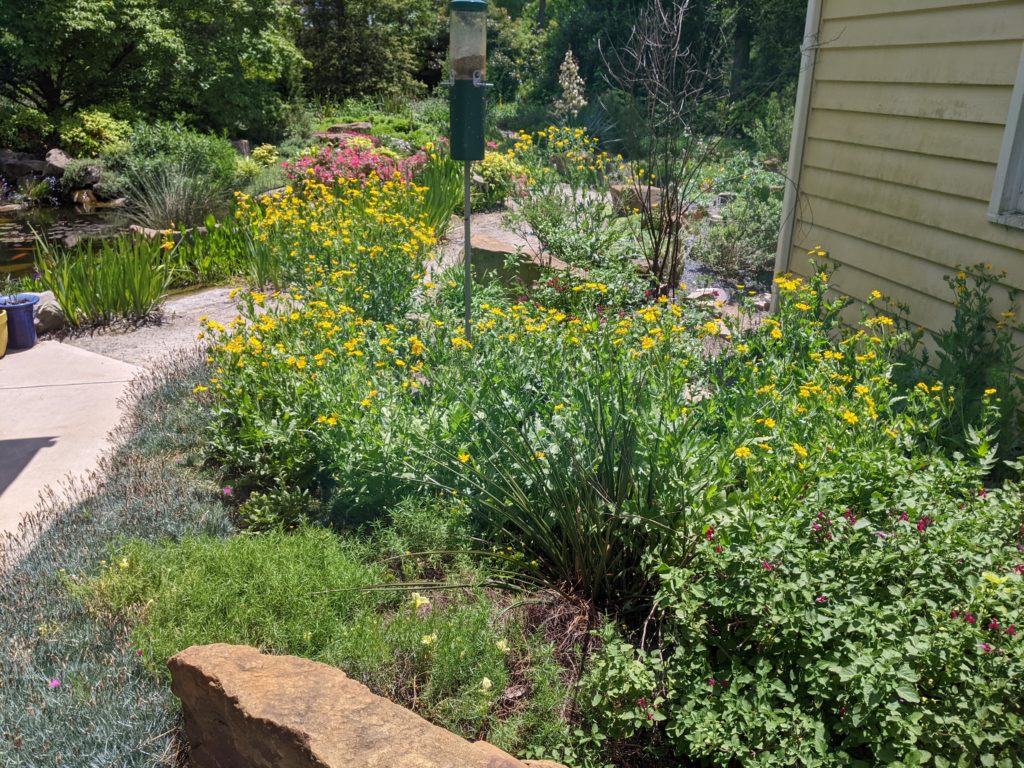 Piedmont Chapter Fern Table Workshop
Piedmont Chapter members gathered recently for a fern table workshop on a chilly afternoon in March. We combined ferns and companion plants with stones, moss, cones and wood to make beautiful displays featuring our favorite fancy fronds.
Photos from Piedmont Chapter's Visit to Montrose Gardens
On Saturday, November 19, chapter members thoroughly enjoyed a perfect afternoon viewing Nancy Goodwin's famous snowdrop plantings! Thanks to Nancy and our guides, Jen and Tom, for a memorable visit to this extraordinary garden.
Photos from Piedmont Chapter's Visit to the Bristol Briar Garden
Thanks Jeremy Schmidt and Meghan Fidler for a wonderful day visiting your extraordinary garden!
Did you miss the tour? Check out Jim Putnam's video on his HortTube channel!
Bobby Wilder, 1932-2022
One of the Piedmont Chapter's longest members, Bobby Wilder, died September 25, 2022, age 90.
Bobby attended the organizing meeting of our chapter in the fall of 1985, when he responded to a newspaper notice of a rock garden meeting in Chapel Hill that was organized by Edith Boyer, Nancy Goodwin, and Sandra Ladendorf. Sandra was elected first chair of our chapter and would go on to become national president of NARGS in 1990. That meeting was attended by 25 people and thus, Bobby became a founding member of the Piedmont Chapter of NARGS.
Bobby became our fourth chapter chair, serving from 1990 until 1993. In 1994 he took over as treasurer serving 20 years through 2014 until David White became treasurer. But Bobby continued to handle the membership records and email The Trillium to our membership.
Bobby served a two-year term on the NARGS board of directors in the mid-1990s and attended many national meetings in the United States and Canada, representing our chapter.
Our Piedmont Chapter has hosted five national meetings: in 1990, 1999, 2004, 2013, and 2017. Bobby served on the planning committee for each of those five meetings—volunteering in various capacities including registration, making name tags, and treasurer.
Over the decades, until recent years, he home-hosted scores of our chapter's out-of-town speakers, who stayed overnight while visiting our chapter. Many were repeats from previous years—except one who found Bobby's liquor cabinet after dinner guests had left and Bobby had gone to bed.
Bobby grew up in Johnston County, North Carolina, in the Corinth community. He served four years in the U.S. Navy, stationed initially at San Diego, and upon discharged earned a B.S. degree in Science Education at N.C. State University. He then taught science at Daniels High School in Raleigh for several years.
Bobby had a 43-year relationship with his partner, Jack Lamm, who died in 2001. Together, they co-owned a picture framing business on Dixie Trail in Raleigh, called Century Framing.
His health had been gradually declining during the Covid pandemic when he was unable to venture outside and it worsened with a collapsed lung this summer. He recovered from that and was in a rehab facility but making plans with his extended family to return home when he unexpectedly died.
The Piedmont Chapter has made a donation to the Bobby Wilder and Jack Lamm Horticultural Scholarship Endowment at NC State University in Bobby Wilder's memory.
By Bobby Ward
WHERE IN THE WORLD???
Chapter members are off on their travels this summer – send your photos of destinations near and far!
Wave Hill received the Francis Cabot Award this year. For more photos and a description of this garden, please see the Awards section of the NARGS Quarterly, Summer 2022.