Our Next Meeting
Saturday, February 8, 9:30 am, JC Raulston Arboretum
Will Hembree, "Hiking from Georgia to Maine: Wildflowers of the Appalachian Trail"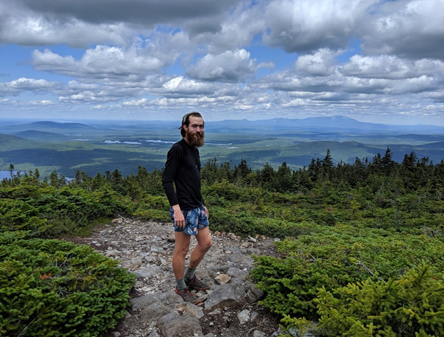 Will graduated with a Master's degree from NC State University and, prior to beginning work at Longwood Gardens, set off with his father to hike the Appalachian Trail.
Excerpt from Will's article for the current issue of The Trillium:
"When my dad and I first had the idea of thru-hiking the Appalachian Trail at the intersection of my graduation from
graduate school and his retirement from a career in horticulture, I knew it was an opportunity that I could not waste.
The opportunity to spend months in my favorite place, doing my favorite thing, with one of my favorite
people was a very gratifying experience. We covered over two thousand miles of Appalachian flora, encountering
over five hundred identifiable species, with many thousands more surely evading our attention entirely. In my mind,
we were paralleling the legendary father-son plantsmen duo of John and William Bartram, separated by two hundred
– and fifty-years' worth of land development and exotic plant introduction. On many days, it seemed as if the flora
around us was entirely alien, and occasionally it seemed as if we had stumbled off the trail for the lack of apparent
"wilderness" in sight. But whenever we would come across a plant new to us, which became more and more frequent the further we walked from our home, everything around us stopped as we tried to classify our new floral friend."

Miss a meeting? Many programs, recorded by chapter member Chris Glenn are available online.